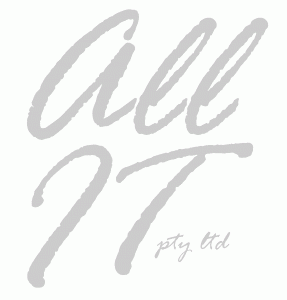 All Over IT is an Australian company. We work with all market sectors from multi-national corporations to small businesses. As our name suggests, we take a whollistic view of a cleints' IT environment and their business processes and needs. Our strength is in delivering solutions that are appropriate to business needs and meet their demands and expectations, regardless of scale or budget.
We do not beleive in technology for technology's sake, and prefer to use technology to deliver the simplest, most cost effective solutions possible. This is often a combination of good technology and business processes.
Rapid advances in hardware and software, virtualisation and communications , has made high technology solutions more available to smaller business than ever before. However, the cost of accessing the technology is only a small part of the true cost of implementing new technologies in business. Implementation, Training, Support & Maintenance must all to be taken into account. The total cost of ownership (TCO), needs to be considered together with a realistic expectation on the return on investment (ROI).
With the latest advances in vitrualisation and communications, the ability to rent applications and resources by utilising Cloud based services has revolutionised the Corporate IT environment, and will continue to move down into the small business sector. This allows businesses to reduce capital expenditure and utilise a "pay as you go" option, moving more of the cost into the operational area with lower up front costs.
While this model is quite attractive, it is only suited to ceratin businesses and there are always issues in regard to availability and security.
These solutions are, by no means, new. Various aspects of these technologies have been around for years, hidden in the Data Centres as hosted systems. Attempts to market the technologies have also met with limited success, such as "Software as a Service". The glue which brings all this together is the advances in communication infrastructure. The ability to deliver these resources and applications via an inexpensive internet gateway or private VPN, together with a growing awareness by Operating System and Application vendors, has opened the marketplace and now almost every Internet Service Provider (ISP) offers some degree of enhanced "hosting" services.
The fabric of the new era is woven from reliable high speed communications and a plethora of service providers offering access to an abundance of applications and resources.
The growth in the moble device market has also heralded in a fundamental change in the human interface together with the "always on, anywhere, anytime" expectations. Smart Phone and Tablet technologies have matured to the point of being viable tools for business. However, managing these devices in larger environments raises additional security issues.
At All Over IT we take these, and other options, into account and define an IT Strategy for your business. Then, we develop the concept and design the appropriate solution. When this is complete, we will source the necessary hardware and software and draft an implementation plan. Depending of the scale of the project, we then manage the process from the ordering and delivery of equipment, through to the deployment and live implementation, including and training and any customisation required. After this, we monitor the system providing application and user support. This evolves into a maintenance role with any other customisations or expansions being managed as required.
A complete service.